Are You Considering or Already Using HubSpot?
If so, we would love the opportunity to work with you.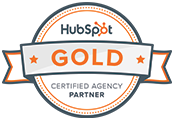 Bernco Media is a HubSpot shop. We live and breath in this platform, and we purposely don't work with any other marketing automation solutions.
In fact, we have been known to turn away business when approached just to deliver services for another platform, or to help a business try to implement another software. Why? Because we want to be the best at what we do inside of HubSpot, and we don't want to spread ourselves too thin trying to learn other solutions.
If you are considering purchasing HubSpot, let us help guide you on your journey, and make sure it's a fit for your business.
If you are an existing HubSpot customer, and would like some help with implementation, some consulting, or some help with your inbound strategy, we would be thrilled to help you.
Here are answers to a few common questions we get.
Q: Why should I work with a HubSpot partner?
A: Well, that's a great question. And the quick answer is, it depends. Often a company will purchase HubSpot, and they end up biting off more than they can chew. They want to get more from the software but just need a helping hand. Also, we find that when a customer works with a HubSpot partner, they tend to get better results. Not that the partner is magic, but because we hold you to the standard we help create for you. Sometimes we crack the whip a bit, much like a personal trainer would do. When we hold you accountable, you get better results. It's that simple.
Q: As a partner, can you help me with more than just planning, strategy or coaching?
A: Sure. If you need help with building your website, content creation, social media or hiring the right people to help you internally, we are here to help you succeed.
Q: Do I need HubSpot?
A: It depends. While we would love to say everyone needs HubSpot, often that is just not the case. And if you don't, we are not going to try and make it work for you. HubSpot is a relatively large software platform, and it has a lot of moving parts. If it can't be fully used, or there are budget constraints, we will do our best to find a solution that will work for you, even if it's not with us. That's just how we roll.
Q: What does all the Tier levels mean with HubSpot?
A: Basically, HubSpot recognizes partner agencies when they hit certain milestones, and it is based on monthly revenue, overall HubSpot sales, how many accounts we manage, and a customer happiness index (CHI). Bernco Media is thrilled to be one of the few Gold or above tier partners located in Salt Lake City, Utah.
Q: You are in Utah, I am in another state, can you help me?
A: You bet your bottom dollar we can. While it is nice to have some local help, the internet provides many options to have meetings as if we were right there with you. In some cases, it may even make sense for us to travel to you occasionally. And if that need arises, we will make it happen. No matter what, we are here to help you rock HubSpot! Are you?
Q: Are there any other benefits to buying HubSpot through you vs. HubSpot direct?
A: Why yes there is. Not only will you still get the amazing experience of working with HubSpot direct as needed, plus the incredible training resources, you will have an instant expert in your corner ready and able to help you get HubSpot up to speed much faster than if you were to do it on your own.
Also, when it comes to onboarding, often we can save you that fee with HubSpot when you agree to work with Bernco Media on a retainer basis. We will usually roll that charge right into services, saving you $600, $3000 or even $5000.
Q: There are other HubSpot partners in Utah. What makes you better?
A: That is a hard question to answer. But the short of it is, we may not be better. But, maybe we are. Truth be told, we really like our fellow HubSpot partners here in Utah. But, if you are indeed looking for a HubSpot partner to help you, we suggest partnering with one that is, at least a Gold tier partner. This signals that the partner knows how to rock HubSpot, and they have worked with a decent number of clients in the past.
Other than that, it's about a fit. We suggest you interview and have good exploratory calls with other partners, and work with the one that you feel best understands your goals, one that you feel can get you to where you want to be, and one that you feel can help you get the most from the software.
These are just a handful question we get asked. Do you have another question we can answer for you? Contact us and we will be thrilled to offer our advice.