Since It's Your Birthday, Will You Buy Our Crap?
Monday was my birthday, and my email inbox was full of many happy birthday wishes from friends, family, and… brands!
There is nothing like getting a birthday wish from a company that I have at some point and time given my birthday information to. Poor email marketing attempts, that are so obvioulsy canned and templated, really has a way of making you feel special on your birthday!
The reason for this post (rant) is to show three examples of failed emails, and one good example, and maybe start a discussion on how, as a brand that must wish me and others a happy birthday, to go about doing a better, dare I say, more personal job.
So, let's do this. The Bold headlines are the actual email subject lines
#1: Wendy's:

It's your birthday! Enjoy it with $1 off at Wendy's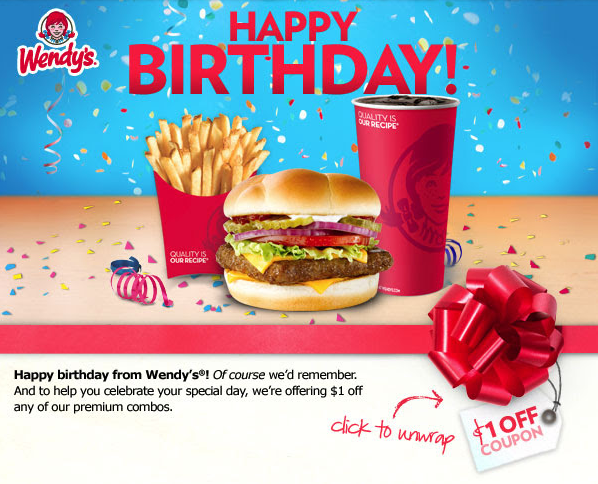 First off, I am pretty sure Wendy's has my name someplace, since they have my birthday and all. But, even without them personalizing the email with my name, it's a coupon worth one freaking dollar!
Once you click through to "unwrap" my coupon, you have to click it to print it (lame, who has a printer?), and you have to redeem it towards a premium combo. What if I just want a frosty, sack of fries, or a JR. double bacon cheeseburger? Too bad birthday boy!
I get better coupon deals in the mail from Wendy's already, and a dollar… well, it's really more insulting than anything. A better deal would have been a simple free frosty desert coupon. Chances are, I may buy something else anyway. Oh well.
Email Grade:
Personalization: F
Offer: D
Likelihood for redemption: 5%
#2: Macy's:

For your birthday! Enjoy Free Shipping on any purchase.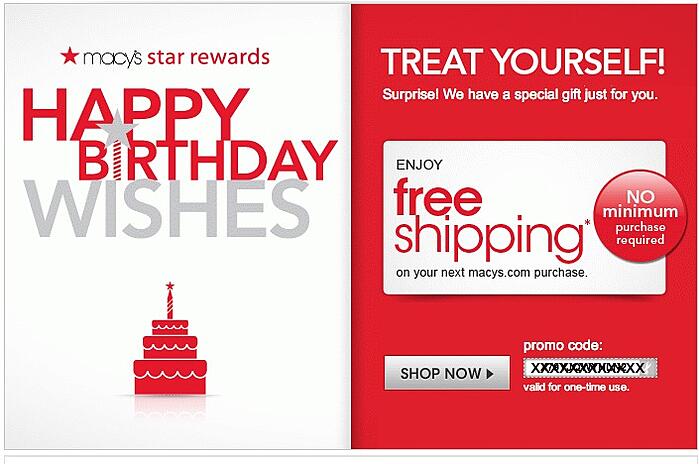 OK, these guys know me. I pay them every month for hell sakes. I get dragged to Macy's, (I mean, I shop with my wife there often), yet nowhere is my name. Maybe this was for my wife?
Free shipping as the offer for your birthday is semi ridiculous. But, not nearly as lame as "have a dollar off" like Wendy's. Since, no matter the size of my order the shipping would be free, the deal could be decent… let's say $20. Not bad.
The lame part is, if you get Macy's emails as often as I do, free shipping is given out like candy to a chunky toddler, and is really not that special, nor is it a "treat".
And since I am often dragged to the store, (they don't know this, obviously) the LAST thing I want to do is look online as well. (I'm a guy, OK. I loathe shopping!). So, had they known my viewing habits from Christmas, or known I was a dude, maybe the offer could have been a bit more personalized to something I would want.
Right now, this ad. I mean gift, just screams to me… "Since your wife is going to buy crap from us anyway, at least we will ship it to you free!" Sigh.
Email Grade:
Personalization: F
Offer: B-
Likelihood for redemption: 25%
#3: Redbox:

Happy Birthday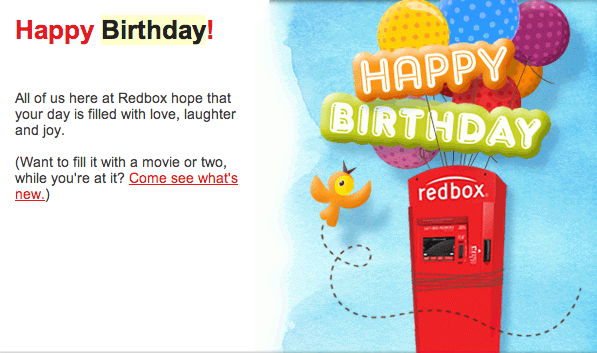 In this birthday wish email, Redbox went with the more simple approach, and just said Happy Birthday, kind of.
Who here get's email from Redbox all the time? I know I do. Seems like they are always giving away a coupon code for a free rental because it's Tuesday, garbage day, or 3 days before Easter. But here, on an actual day where it makes sense to give a free rental, they just say how they hope I am having a joyful day. Oh and, if you want to see a movie, click here, we have 'em. Gee, thanks!
This is a company where the one-dollar code would have been cool, unlike you Wendy's. I usually rent 2-3 movies each time I go here, so chances are I would have rented more than one. But, how would they know that?
OH WAIT, they do! They know my rental history like my doctor knows my blood glucose levels. They know I have not rented in a few months, so they should have tailored it to "hey we miss you (Darin), and since it's our birthday…"
While not an atomic fail, they sure seem confused as what day is a good day to give a freebie!
Email Grade:
Personalization: F
Offer: N/A
Likelihood for redemption: 0%
And for the winner...
#4: Dunkin' Donuts:

Free Beverage on Your Birthday, From Us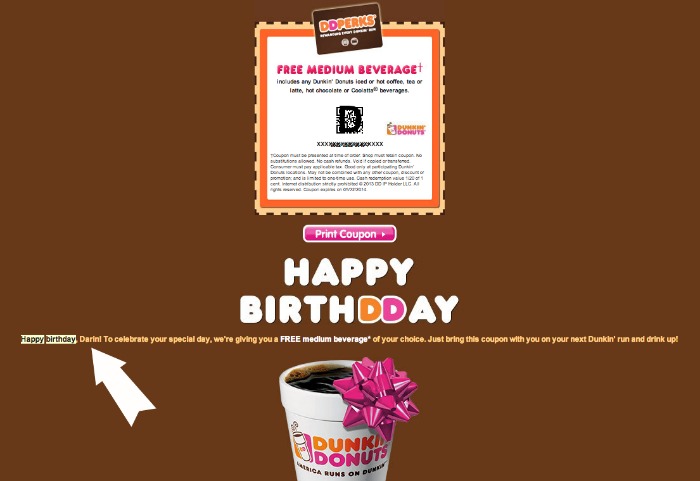 Well, at least one brand got it right. Look at this; it's actually personalized, my name is right there! They sent me a coupon for a free medium beverage (mighty nice of them), and I have 3 months to use this baby (not that it will last 3 days).
Better yet, Dunkin' has a great mobile app. I pay for my purchases by reloading the perks card on my iPhone, and this coupon was immediately in my app when I opened it. It's just sitting there waiting for me to redeem, and I don't even have to buy a donut to get a coffee. Just a plain old fashioned "we love you" gift! Dunkin' gets it!
Email Grade:
Personalization: A
Offer: A
Likelihood for redemption: 100%
Out of all my examples, Dunkin' obviously did the best job. They built this perks system for brand loyalty. The offer was spot on (though, I'd like a donut option), and the app experience makes it that much better. (Now if I could have a consistent in-store experience… that's a story for another time)
What Could Have Been Done Better?
Obviously for Wendy's, Macy's and Redbox, they should be doing some sort of personalization. Adding my name to an email is easy, however it still would not have made me want to go to Wendy's to save $1, would have at least been more personal though.
The offers themselves were nothing original, and they were very self-serving. The only way to redeem was to buy something to get something (Macy's and Wendy's), and in the case of Redbox, nothing offered at all.
So other than Dunkin', did this create any warm and fuzzies for me towards these other brands? Was the email sincere enough for me to take some sort of action?
The answer: NOPE! I would have just assumed not to get anything at all. So, thanks for the interruption, and the content for this blog post. =)
Brands, no matter the size, you can do better. You collect data like never before. You know buying habits, site visit data, my name, obviously my birthday… so why would you go and send something so, well, lame?
If you don't have this kind of data to help make you a smarter marketer, we need to talk! (Just saying)
Small companies and brands, take notice: Look at how these big guys "do it" and learn how you can go above and beyond. Whether it's someone's birthday, a holiday, or Friday… if you are going to send email to your precious customers in your database, you better find a way to make it for them, about them, and something they will appreciate and want to open, and better yet, take some sort of action!
End rant! (Sorry Wendy's)
Your Turn
Have you received any good brand birthday wishes or horror stories you would like to share? Do you have any ideas on what brands or small businesses could do better or offer? Or should they email you on your birthday at all?
Leave your thoughts in the comments, and let's chat!
Until next time,
Doc
---