How a Great Explainer Video Can Boost Conversions and Increase Sales
April 24th, 2018 | 3 min. read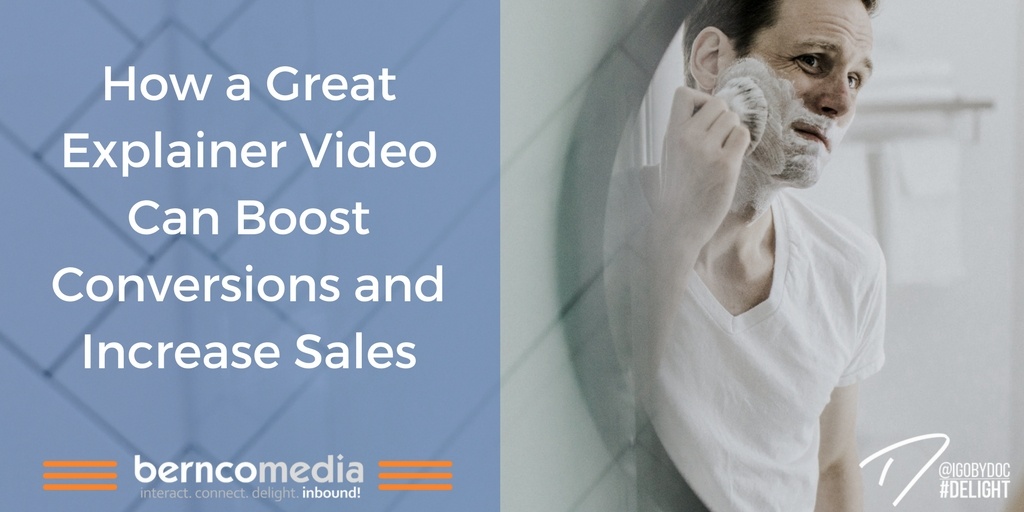 When Dollar Shave Club, the now pervasive purveyor of monthly razors delivered to your door, was looking for a way to polish its brand and increase sales, they decided to tell prospective customers what it is they do, and why it's better than what their competitors do. They could have created a print ad. They could have posted a blog. They could even have pushed out an infomercial. Instead, they created a video.
It's edgy title, "DollarShaveClub.com - Our Blades Are F***ing Great," made clear that they had identified their target audience—young men between 20 and 30 years of age. Its tone made clear they had identified what that target audience would respond to—a wacky, funny presentation. Its content made clear they knew how to sell the superiority of the product and service they offered—great razors, less expensive, and home delivery.
What Is an Explainer Video?
Said differently, Dollar Shave Club in that one creative coup told the marketing world they knew how to create a great explainer video. But what, precisely, is an explainer video? Here's how Megan Marrs, writing for WordStream, explains explainer videos:
"Explainer videos are short online marketing videos used to explain your company's product or service. Explainer videos, often placed on a landing page, your website's home page, or a prominent product page, have become extremely popular – some sites boast of conversion rates increasing by as much as 144% after including an explainer video on their website."
Social media advertising is also a smart play for these kinds of videos. I am willing to bet that you first saw the Dollar Shave Club video on Facebook or YouTube in the form of sponsored content.
A couple of other brands you may have seen this work well for are Purple, the mattress company, and Squatty Potty, a toilet stool that helps you poop like royalty! (Haha, typing that out just sounds ridiculous). Both of these brands not only explain what their product does well, but they are also hilarious. Entertaining while educating in your videos can be the knock-out punch you need to drive awareness and increase your sales!
How to Create Your Explainer Video
Every business is different, and every explainer video has a slightly different objective. Regardless of their purpose and the nature of the business which creates them, however, the best explainer videos follow certain best practice strategies, including the following 3:
1. Create a Script That Solves a Problem
Your explainer video will be better with strong graphics and a compelling voiceover—but it will fall flat if it doesn't start with a great script. The first step in writing your script is settling on a specific goal—for example, building brand awareness, increasing conversions or driving sales. Step 2 is to identify your audience and the problem that your video will solve for them.
Typically, the script will begin with a concise overview of your product, then introduce the problem, describe the way your product solves that problem, and finally insert a clear call to action (like signing up for a free trial). You should also include "trust signals," like customer reviews and testimonials. A best practice is to keep explainer videos short (generally not more than 90 seconds), add your value proposition in the first 30 seconds, use simple language, and speak in the second person.
2. Add Your Voiceover, Music, and Sound Effects
The voice you use should convey trust and credibility and be consistent with the tone of your video (such as funny or serious). If you have in-house talent, use it. If you don't, there are plenty of options. You could hire a digital agency, go to UpWork, or use online resources like Voices.com (a network of professional voice actors) or Fiverr (you can't beat a starting price of $5).
Music and sound effects are an integral part of your video, one which can help create a strong emotional connection with your audience. You can use several services, like MusOpen, Free Sound, Audio Jungle, and Audacity.
3. Decide Who Will Handle the Production
As with voiceovers, you have several choices here. There's always the DIY route, but unless you have someone in-house with substantial video production experience, this could be a mistake. There's also the option of hiring a talented freelancer, but you need to do some legwork to check out references and review some of his or her work.
In most cases, your best bet—and best shot at getting an explainer video that does what you want it to—is to work with a competent video production agency. It might cost you a bit more money, but you'll be working with experts who can give you the guidance and service you need to ensure a great result.
Conclusion
An excellent explainer video can dramatically increase conversion rates and boost sales. Creating that kind of video is not something you can easily do on your own—you may need the expertise and experience of a professional video production agency.
Owner/Head Coach @ Bernco Media. Digital sales & marketing since 1997. Passion for teaching companies to be the most trusted voice in their space. They Ask, You Answer Certified Coach & HubSpot Certified Partner & Trainer. Reversed Type 2 Diabetes doing KETO. Wears Mickey Mouse Daily. Daydreaming of next Disneyland Trip.