Which Social Media Site Is Best For Your Business
March 30th, 2018 | 3 min. read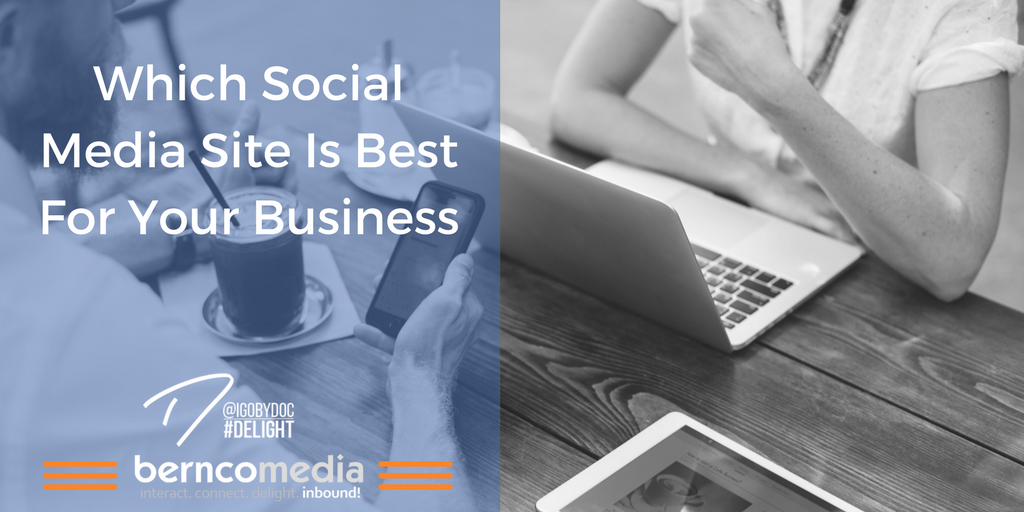 When it comes to social media marketing, the choices are endless, with more popping up every day. You may be wondering if you should start on Facebook or Twitter. What about Instagram, Pinterest, or YouTube? Maybe you have been thinking of using Snapchat for your business. Because there are so many choices, it can be hard to decide where to start.
Here is a breakdown of the most popular social media sites so you can decide which is best for your business.
Facebook
Most business owners start their social media marketing campaign on Facebook. It seems like everyone is on Facebook these days, making it a great place to meet potential customers. Even better, you can track how well your posts are doing.
When you decide to invest in some paid advertising on Facebook, you can target your audience, so you are not wasting your valuable marketing budget.
Twitter
Twitter is another good place to start. There are billions of tweets posted regularly. Though this can be good because you can tweet all day long without bothering people, it is very easy to get your tweets lost in the shuffle. However, if you want to get a quick following, Twitter is a great place to help get your business name out there.
A quick tip: Don't pay for followers on Twitter.
YouTube
For those who like to make videos, YouTube can be a great site to focus your marketing strategy. Also, you can put your videos on other social media sites, making it more likely to be noticed. The more places that you share your video (and the better it is), the more likely it will be successful at bringing a lot of attention to your business.
YouTube works best for tutorials and do-it-yourself videos that are created for niche audiences. It also works for almost any topic since more people are willing to watch a video than read a book. If you can make a video about it, it will probably get watched.
YouTube is also a great place to invest your marketing dollars using tactics like video pre-roll ads.
Instagram
Instagram can be a great place to market your business. High-quality content and pictures can be shared on other social networks, giving you even more visibility. Even better, more of your followers may see your posts on Instagram over Facebook. Since Facebook keeps changing its algorithms, it is getting harder and harder to get your posts noticed. As long as you create good content, engagement on Instagram is quite high.
Another tip here: Since Instagram uses the same ad engine as Facebook, this is another great option for paid media!
Pinterest
Though underused, Pinterest can be a great place for your business. It has one hundred million active users. Not only that, people who use Pinterest spend hours on it! Pinterest is great for businesses that cater to women, especially fashion and things for their homes.
Snapchat
If your business is targeted at Millennials, Snapchat might be perfect for you. It can also help companies to stay relevant – and help them grow. It might not be the best place if you are struggling to get customers, though if you just want to show your younger customers that you are still there, it might be a good place to add to your marketing campaign. It shouldn't be your first choice. However, once you are up and going on other sites, you might be able to start marketing on Snapchat.
The best way to approach Snapchat is to post all of the time. You can't really overshare. Since you are posting so often, you don't have to be so particular on each post. Day in the Life posts does great here.
LinkedIn
LinkedIn is a professional network. That is for sure. Here you will not only want to create a company page and post content, but you will want to get your LinkedIn profile up to snuff, as well as your employees.
LinkedIn has become very similar to Facebook in that you are able to share all sorts of content including photos and now videos.
If you are looking for a more professional place to be on social media, LinkedIn is for you.
Wrapping Up
Remember that you don't have to stick with just one social media profile. You might be able to juggle three or even four. However, get one started and get used to it before you start another one. Once you have a profile and get some followers, you might be able to focus on starting another one. If you take on too much too fast, you very may end up quitting.
Owner/Head Coach @ Bernco Media. Digital sales & marketing since 1997. Passion for teaching companies to be the most trusted voice in their space. They Ask, You Answer Certified Coach & HubSpot Certified Partner & Trainer. Reversed Type 2 Diabetes doing KETO. Wears Mickey Mouse Daily. Daydreaming of next Disneyland Trip.