Crafting A Winning Content Marketing Strategy
May 25th, 2018 | 2 min. read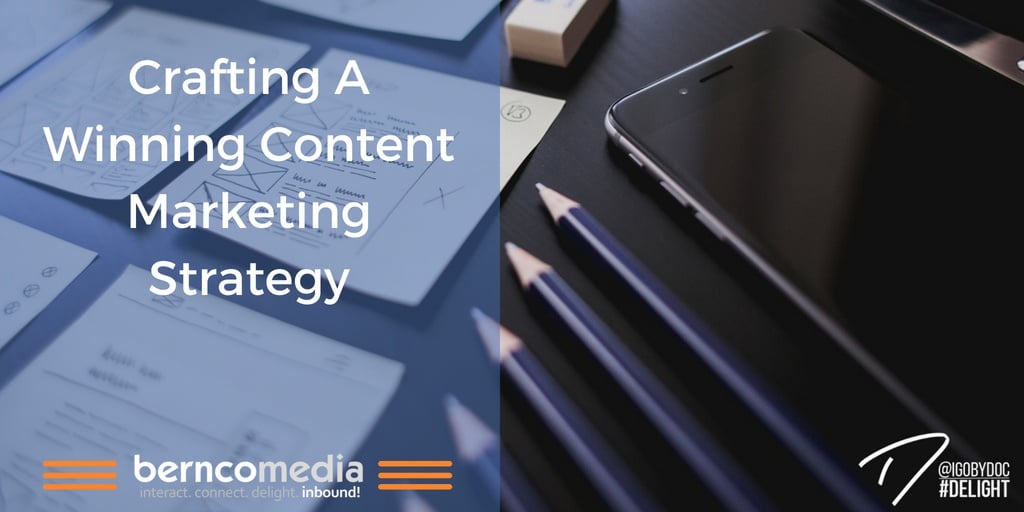 Digital marketing has blown the roof off of a house that once contained marketing professionals who followed strict disciplines and measured results based on a set of clearly defined performance indicators. In the digital world, potential consumers are looking for a wide array of content and sometimes "freebies" before they will follow a call to action and jump into your sales funnel.
Content marketing is a valuable tactic that cannot be dismissed by any brand looking to succeed in a competitive digital landscape.
Gimme More
In the past, companies could offer giveaways and entice buyers with physical goods, and value-added service offerings; this is fine and dandy, but today's consumers are more educated, and looking for more than a buy one get one offer. Your brand needs to establish itself as an expert in its arena, and your content will speak volumes about how you treat your valued client assets.
What Is Content?
Content is king, and you'll need to have a solid offering of it, for potential clients. Your website, social media, and other digital content should provide clients with a wealth of information that they find valuable, as it relates to your product or services. This means that you should know yourself and your brand, and you should be able to decide what types of content your market will find valuable.
Figuring It All Out
Today's digital marketing tools offer tracking and analytic tools that far surpass anything marketing professionals have had available for use in the past that was built around traditional "brick and mortar" type marketing strategies. Postcard mailers, billboards, and radio advertisements still have their benefits, but the digital world offers much more room for growth and accountability.
Your clients are going to be looking for specific nuggets of information in their search for your offerings. You'll need to utilize the tools available to digital marketing professionals and figure out who your core audience is; you'll also need to evaluate the competition and figure out what types of content they are providing to their clients. Once you have figured out what kinds of content are valuable in your market, you'll need to begin coming up with creative ways to differentiate yourself, while offering your unique content.
Content
Content can be a wide array of informational offerings. Things like e-books, online tutorials, video Q&A, and advice columns can all be used to collect email addresses, and other information, from your potential and existing clients. There will always be pieces of content that you can create which will add value to your brand.
For example, if you are a skateboard brand in California, you might want to have a listing of all skateboard parks across the state available on your website for download. You can offer this listing to website visitors in exchange for their email addresses, and then you can market your products and promotions to these visitors in the future. From law firms to brick-and-mortar coffee houses, these tactics of offering valuable information to people will increase your brand's value in several ways.
Tangible
The tangible ways in which you can measure the success of your content marketing strategy will be centered within a sphere of sales performance indicators. However, there are less obvious ways that content will help you succeed over time.
Your website and other digital assets need good content to succeed in search engines, and we all know that search is a significant factor in how you are acquiring potential customers. Engines like Google are looking at the quality, consistency, and length of your content, and they are considering how it all works together within the overall landscape of your online presence; this means that you'll need quality content across all of your digital assets, including social media.
Start Small
You need a trusted partner to help you craft a winning content strategy, and you should start small in the beginning, perhaps looking at your main website and analyzing the content that you are providing to visitors from a brand education perspective. Once you begin working with professionals who understand the process of success in the digital marketplace, you can start to expand, and create more winning content marketing strategies across all of your digital channels.
Owner/Head Coach @ Bernco Media. Digital sales & marketing since 1997. Passion for teaching companies to be the most trusted voice in their space. They Ask, You Answer Certified Coach & HubSpot Certified Partner & Trainer. Reversed Type 2 Diabetes doing KETO. Wears Mickey Mouse Daily. Daydreaming of next Disneyland Trip.