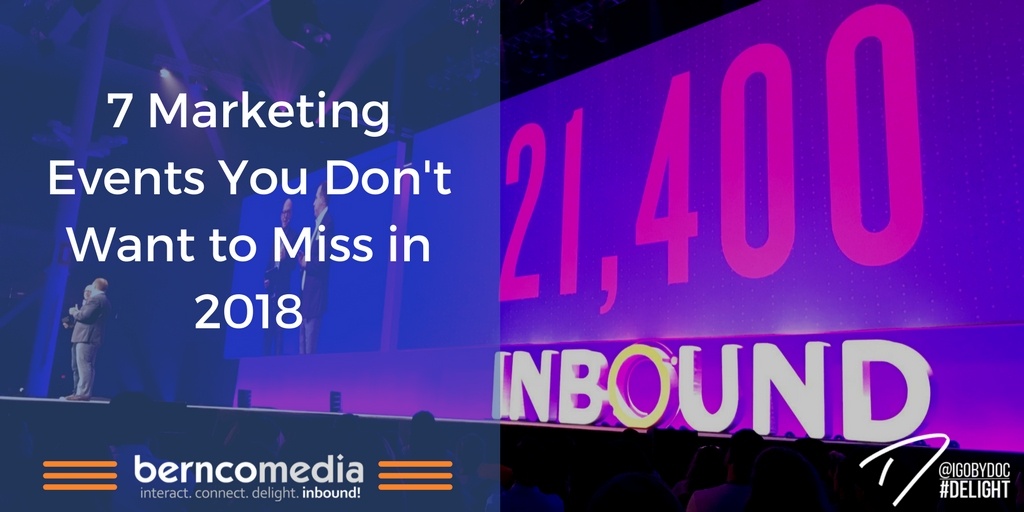 How do you stay on top of the latest marketing techniques and trends?
Marketing conferences offer the chance to speak face to face with industry leaders and network with other businesses like yourself. Digital marketing trends change at lightning speed so if you're not surrounding yourself with forward-thinkers, the game will change leaving you in the dust.
Here are 7 marketing events you don't want to miss
Content Marketing Conference
Content Marketing Conference founded by Byron White is scheduled for May 2nd-4th, 2018 and is a must-attend for anyone needing a mixture of science and art for creating engaging content. This conference will focus on working smarter not harder for content creation. Average attendees have company sizes ranging from 50-1000 employees. If you need help in creating visually captivating content, this conference is for you.
Next10x: Mastering Mobile Digital Marketing
Next10x: Mastering Mobile Digital Marketing is scheduled for May 9th, 2018 and is presented by Stone Temple. Here you can learn about new emerging technologies, new advertising models and how AI is changing marketing forever. Don't miss this opportunity to rank first in the mobile world. At this conference, there will be plenty of time to network and get ahead of the game.
MozCon, A Digital Conference
MozCon, A Digital Conference is July 9-11th 2018 and has a 3-day one track schedule for forward-thinking innovators. At MozCon you will connect with guest speakers, learn the latest SEO strategies and spend the evenings networking with other business leaders. This conference prides itself on actionable tactics so if you need practical steps for your marketing, don't miss this one.
Utah Digital Marketing Collective, formerly SLC|SEM, Annual Conference
This is the 4th consecutive year for the Utah DMC Annual Conference. While it may be regional, they bring in speakers from all over the country. For the 2018 event, they have a great lineup, including Larry Kim, the founder of Wordstream and CEO of MobileMonkey and Rand Fishkin, Co-Founder of Moz and CEO or Sparktoro. This conference will be a one day, 2-track event. Mark your calendar for this conference: Friday, August 24th, 2018 in Salt Lake City!
Impact Live 2018
Impact live is an exclusive, 2-day experience where marketing leaders grow and make valuable connections while having a good time. Impact Live will be in Hartford, CT August 7th & 8th. If inbound marketing is something you love, this event is for you.
Inbound 2018
Inbound 2018 scheduled for Sept. 4-7th is more than a just a conference to learn new algorithms, this is a chance to be in a forward-thinking, passionate environment and carry that back to your business. This conference will focus on networking in a family type environment and incorporates food trucks, break out sessions and nightlife into the schedule. This conference is put on by our friends at HubSpot.
MarketingProf's B2B Marketing Forum
MarketingProf's B2B Marketing Forum is November 13-16, 2018 and it's the perfect place for innovators and leaders to become experts in marketing trends. Founded by Ann Handley, you don't want to miss the opportunities to network and learn the secrets of successful businesses.
The difference between good and great marketers are the ones who stay ahead of the game. If you are not reaching out and connecting with other marketers, you are already behind.
Don't miss these opportunities to network, make some new friends and ensure your business is up-to-date with the latest trends.
Need help getting your business noticed online? Contact us today. We'd love to have a conversation with you.
---