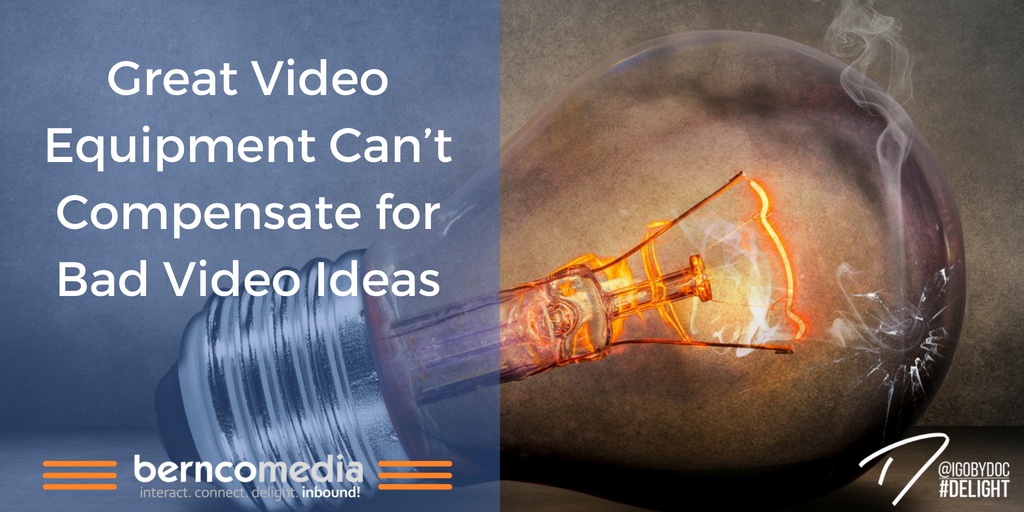 So, you've recognized the power of video marketing and why it is necessary for success. If you are like many up-and-coming entrepreneurs, your first reaction may be to get as much gear as you can.
Gimbal stabilizers. Lighting kits. Macro lenses. The list goes on and on. However, no amount of expensive video equipment will compensate for half-baked ideas.
Now, this isn't to say video equipment doesn't make a difference. Using the right tools in the right way can bring greater creative freedom and diversity to your video marketing efforts.
Just know that to truly find success in video marketing, you need to start with a great idea.
How do you know when you've got a great video marketing idea? Here are five things to look for.
1. Your idea is original.
Videos saturate the digital marketing world and coming up with a fresh idea may feel impossible. To ensure your video is original, simply take a deep breath. Don't force it. Originality is about taking kernels of creative thought and putting your own personal twist on it.
Here is a good example from Taco Bell. A recipe video shot from overhead could be considered one of the least original ideas out there. However, the company made it their own and enjoyed over four million views on Instagram alone as a result.
2. Your idea is genuine.
Videos created merely to garner views and attention might work short-term, but they are not sustainable as part of a long-term video marketing strategy. Audiences are weary of clickbait titles and videos that don't deliver any meaningful content.
A great video idea solves a problem, answers a question, teaches something new, or provides something of worth to your audience.
3. Your idea generates excitement.
Is your team excited about your idea? They should be. Great ideas make you feel like you can't stop until they're fully realized. They get the creative juices flowing. Everyone wants to be involved, and everyone wants to contribute.
4. Your idea is flexible.
Great ideas can be transformed into amazing ideas if you are willing to be flexible. If your idea falls apart when something is changed, it didn't have a solid foundation to begin with. Great ideas are ones that can be examined, studied, and reworked.
When formulating video marketing ideas, always ask yourself questions such as:
What else?
But why?
What's missing?
5. Your idea passes the "gut check."
At the end of the day, go with your gut. You know your business and you know your audience. If you feel good about your idea, go with it. Trust your instincts and use smart video marketing practices to achieve success.
Have questions about harnessing video marketing to your advantage? Send them our way. We would love to chat with you.
---