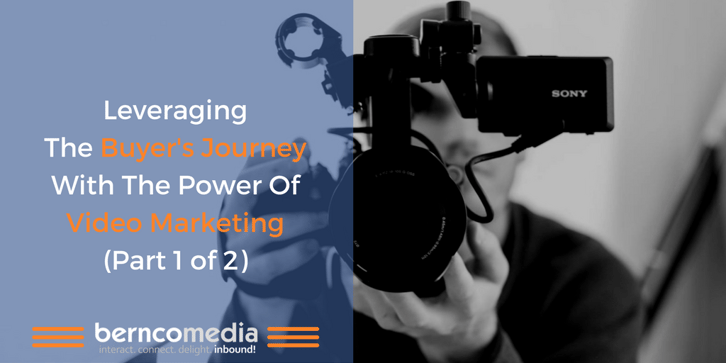 "Strategy without tactics is the slowest route to victory, tactics without strategy is the noise before defeat." —Sun Tsu
The foundation of a successful inbound marketing campaign will have a solid strategy complimented by the right tactic(s). One without the other makes achieving your bottom line goals difficult or futile.
Creating content that nurtures or leads an individual or business through the buying cycle is a trustworthy strategy. Using video as the engine that guides those people, regardless of where they are at within that purchasing cycle is a powerful tactic.
While there are many variations of the buying cycle, depending on the simplicity or sophistication of your product or service, its core stages are universal: awareness, consideration, and decision. We call this the buyer's journey. Knowing your industry, who your target market is, and how you will serve them will help you tailor your video marketing content for each stage.
Video has been, is, and will continue to be a dominant marketing vehicle. According to the Cisco® Visual Networking Index™, global video internet traffic will account for more than 80 percent of all consumer Internet traffic by 2020. According to YouTube, mobile video consumption increases 100% every year, which is why more than half of YouTube views come from mobile devices. Executives, consumers, and Google love videos.

Vision is our most dominant sense. It takes up more of the brain's resources than any other sense. We process visuals faster than the written word. Visual content tends to have more of an emotional effect on us as well. If photos and images can significantly boost engagement, what do you think a video will do?
Supporting The Customer Buying Journey With Video Content
Awareness stage: A consumer/business (C/B) recognizes or is aware of something that might trigger a need. It is also the stage where your brand becomes a possible solution for that demand.
C/B: Performs informational searches for a problem. These queries may be broad or specific.
Your Approach: Creating explainer videos let you cover various aspects of your business. In fact, it could be used for every stage of the buying cycle. But for the sake of variety, in this example, I'll use it specifically for this stage only.
Explainer videos allow for creativity (animation+storytelling). It gives you a chance to stand out from your competitors even in the blandest of industries. How-to videos that provide solutions to a potential customer's problem enables you to become an authoritative and trustworthy option to the buyer.
Whether you want to introduce, explain or advertise, explainer videos are an effective method to showcase your knowledge, solutions, and brand while naturally guiding people through your marketing funnel.
Note: This is not the stage where you push for a sale. If you know the needs of your market, this is the stage where you create content for each of those specific needs. Solutions for problems is your video content focus.
This is also a good stage to start nurturing leads. An email campaign lets you continue to position yourself as an authority in your industry. Adding video to your emails can boost CTR remarkably. According to a Forrester report, including video in an email, leads to a whopping 200-300% increase in click-through rate.
A bad first impression will be your only impression. Solution focused explainer videos are a sound way to keep the pipeline flowing towards a sale.
One final note, video allows your business to be more human. It allows your prospective buyers to get to know you, your staff, sales reps or owners. Don't you think a buyer would want to do business with someone they have come to know vs. just a text based website? Thant's what I thought.
Part 2 will cover creating video marketing content for the consideration and purchase stages of the buying cycle.
Until part 2...
Doc
---