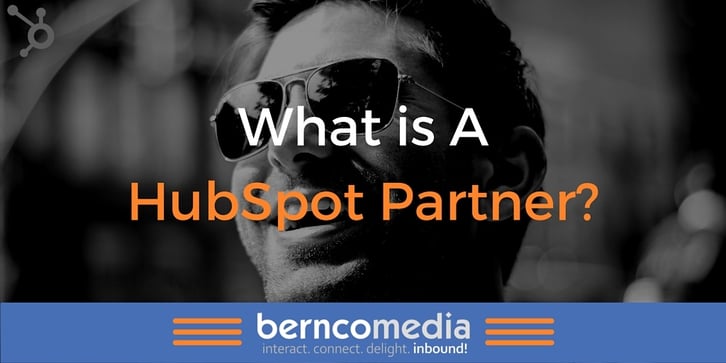 Here in Salt Lake City, I am the co-leader of the Salt Lake City HubSpot Users Group, and a few weeks back we had another world-class event, our 5th since we started them last year.
After the event, I had some folks come up and speak to me.
Two of them were existing HubSpot customers, both relatively new.
Both of them asked me "what is a HubSpot partner?"
I gasped in disbelief that they seriously had no idea, being that I am a HubSpot partner. So, in proper fashion, I have decided to answer that question here.
What Is A HubSpot Partner?
A HubSpot Partner, also known as a value-added reseller (VAR), is a company that has entered into an agreement with HubSpot to resell their marketing automation software.
All HubSpot Partners Are Not Created Equal
In the world of HubSpot, last I heard there were over 2,500 partners across the globe, and they come in all shapes and sizes.
Partner Scenario 1:
Some become a partner and resell HubSpot as an added product line to some other service they also may be selling. I have known a few partners that were selling other software solutions like SalesForce but happened to offer HubSpot if the client needed it.
Partner Scenario 2:
Another type of partner may be a traditional PR company, or maybe a web design firm that sells some HubSpot on the side to get a little extra commission/revenue.
Partner Scenario 3:
There are also resellers that may be offering multiple marketing automation platforms, such as Marketo, Infusionsoft, and Act-on, and provide many options to cast the widest net possible to get as much business as possible, though, that can be dangerous for the client.
Partner Scenario 4:
And finally, there are Certified HubSpot Partner Agencies, like Bernco Media, but of different sizes, and different capabilities. But, in most cases, these partner agencies focus solely on HubSpot and Inbound Marketing and Sales services.
The Certified HubSpot Agency
By HubSpot's standards, these are the agencies that they would recommend their customers to partner with. Whether that is to purchase HubSpot through initially or to help the business after the purchase because HubSpot knows that we will take great care of the customer buying the software. In fact, HubSpot knows that, in most cases, they keep clients on the software longer when the client partners with a qualified agency.
HubSpot Partners achieve different tier levels based on how much business they bring to HubSpot, as well as how well the customers are using the platform. There are five tier levels:
New Partner - no tier
Silver
Gold
Platinum
Diamond
So, in other words, Certified HubSpot Partners are rewarded based on how we do our job, and how happy our customers are.
Why Choose To Work With A Certified HubSpot Partner Agency?
If for nothing else, we live and breathe HubSpot all day long. Not only do we run our own business on the software, but we run many clients as well.
We have been through most, if not all of the HubSpot certifications, and we can develop and execute a HubSpot strategy much faster than if you were to go it on your own.
When I meet a business who has been using HubSpot for a while, it's sad to see when they are not using the full capabilities of the software. When you choose to work with a Certified HubSpot Partner, you are almost guaranteed to be ahead of the game because you will be up and running much faster, and have a killer strategy designed just for your business.
Also, most certified HubSpot agencies can also help you with all of the other inbound services such as blog posts, email and social media marketing, website design and more.
How Do You Find A HubSpot Partner?
While HubSpot may not come out and say it during a sales call you may be having with them when buying direct, we do exist. If you ask HubSpot or tell them that you want to work with a partner, or maybe someone who is local to you and can be on site every so often, they will help find a qualified partner in your area to partner with.
In future posts, we will discuss how to choose the right HubSpot Partner for your business.
Until next time,
Doc
---
Our events bring out HubSpot users, other partners like Bernco Media, prospective HubSpot users, as well as anyone who wants to learn about general inbound marketing principals.