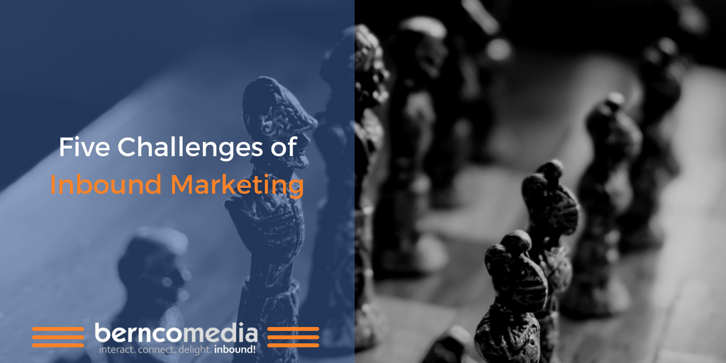 For many good reasons, a lot of companies are starting to focus on inbound marketing strategies to increase visibility and get more customers.
Compared to traditional outbound marketing tactics such as advertising, inbound is more economical for businesses and, from the standpoint of prospective customers, less intrusive, more personalized, and more educational.
At the same time, inbound marketing isn't quite as easy and straightforward as it first appears.
Let's explore just five challenges of inbound marketing.
1. You need a well-planned strategy.
Because the whole point of inbound marketing is to draw in qualified and targeted leads and customers, it requires careful planning and research.
For example, if you're starting a blog, you need a thorough content strategy, including persona mapping, blog topics that match the buyer's journey and keyword research.
Social media marketing requires you to identify the best social sites to engage people on, creating a posting schedule and perhaps executing some paid advertising campaigns.
2. It's labor intensive.
In order to put your inbound marketing strategy into practice, you need to either create a lot of relevant and remarkable content or outsource the task.
Building a website, maintaining social media accounts, sending out emails to properly segmented lists, making engaging videos or other inbound tactics all take time. For this, you need either a solid team or a reliable agency to handle these jobs for you.
3. You need great analytics to measure ROI.
It's necessary to track all aspects of inbound marketing to ensure you're using the right approach. Proper inbound marketing is an investment in your business, not an itemized expense.
Your increased website traffic, social media activity, email marketing open rates, PPC campaigns and any other inbound tactics require accurate metrics to prove your ROI. On the positive side, there are now many excellent software programs and services to help with this challenge, like HubSpot.
4. It requires an optimized website.
Your website is the central hub of your inbound marketing strategy. It takes research and steady effort to build a professionally designed, user-friendly, conversion optimized website.
Today's websites also need a responsive design to ensure mobile users can access them. Also, your style, layout, and graphics must match the preferences of your audience, not specifically your tastes.
5. Results take time.
You can't expect to build website traffic, create lots of great content, generate new leads, and acquire new customers overnight. It takes many months for inbound tactics to reap the rewards of your hard labor.
If time is not on your side, or you don't have the patience for it to work, inbound marketing may not be for you.
On the other hand, a solid inbound marketing strategy pays off well in the long run.
Until next time...
Doc
---