Have You Experienced The New Live Streaming Platform Blab Yet?
Over the last couple of weeks, a platform called Blab is taking off like wildfire. I have sat in on quite a few Blab sessions, I have joined a couple on camera, but I have yet to host one. I'll eventually get hosting one. Just been enjoying the lurking.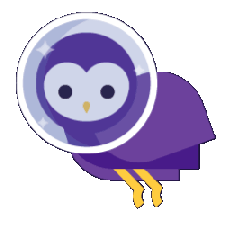 WTF is Blab? Blab is taking the live streaming idea that Periscope and Meercat have been doing, but added the element of additional seats for others to join in and participate in the conversation. It may be more like Google Hangouts, but it is a heck of a lot easier to use. But this post is not a review of Blab, or how it works.
What I wanted to talk about today in this post is, can Blab be useful for a business, or is it just another new shiny platform that the early adopters will tire of eventually? Let's discuss what I have noticed so far.
Here Come The Marketers. They Ruin Everything. Will They Ruin Blab Too?
From the time I joined Blab a couple of weeks ago, my experience so far had been seeing other marketers actually just talking actually talking about Blab, how it works, how awesome it is, and how people are getting addicted to the platform.
The last few days however, I have finally noticed more helpful blabs, where folks are coming on and talking shop, but also being very helpful to the viewers, as they discuss many facets of internet marketing such as podcasts, PPC, social media best practices, Facebook ads, how to use the Inbound15 app (I was on this one, see pic below), and online course development. So, it is nice to see the move in this direction, especially this early in the platforms young life.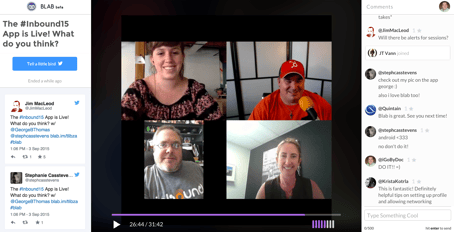 So yes, adoption of the platform is happening, but...
Can Blab Be Used For Business?
In these early days, it seems to be a peer talking to peer feel on Blab. Or, if someone who has an audience someplace else, like Marcus Sheridan or a Michael Stelzner, to name a couple, they bring their fans with them to Blab, where communication can be much more interactive. Whether that's via the chat room or having a fan join in on the video chat. That is pretty awesome, right?
But, up until Friday September 4th, I hadn't yet seen a traditional company take advantage of Blab. Can this actually be done? What company will go into uncharted territory, and get started in the Blab universe and talk direct to consumers on a one-to-one, or in this case 1-to-3 or 1-to-many bais?
Entering The Blabosphere... Steals.com
I was thrilled when I discovered a live Blab from Steals.com, being hosted by it's founder Jana Fancis, who also happened to be a presenter at this years first ever #SLCSEM Digital Marketing Conference last week. I missed her presentation, but boy do I now wish I would have seen it.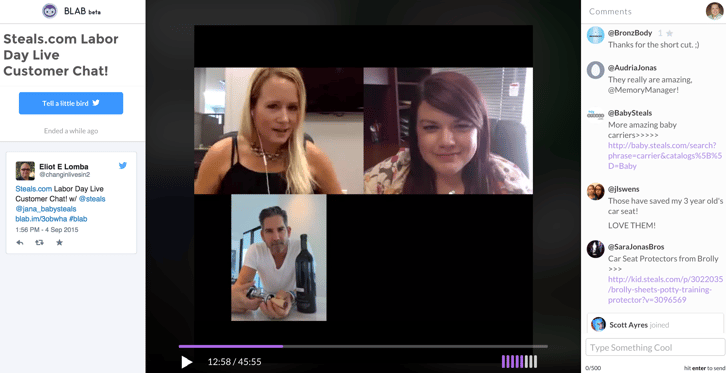 Francis was online discussing the deals that were going on that day, and had a fairly large group in the chat, over 80 at one point when I was in the Blab. But, what happened next was pretty dang cool.
Grant Cardone, someone I have oddly never heard of previously, touts himself on twitter as a "Serial Entrepreneur Businessman, Wealth Coach & International Speaker, hops in on the Blab and kind of stuns Francis. She seemed a little star struck. Apparently Grant has been playing with Blab to do his own version of Shark Tank. He has been letting people pitch him ideas in 45 seconds, and he may or may not decide to invest in their business. (More on that later.)
Grant hops on the Blab with Francis and starts asking her all about her business. What are the gross sales, what is the gross profit margins, etc. She seemed reluctant to share this info, but eventually shared some. Cordone seemed pretty excited about the business Fancis has built over the last few years.
Her story, really is quite amazing, and she has been a great success. $67 Million dollars in revenue over the last 7 years, with no investors, and only $5000 start up money. Dang!
While on the Blab, they discussed the Steal of the Day, and Cardone said to send him 10 of them. I thought that was pretty funny as they were scarves for women. I guess he wants to use the items for some gifts for the holidays or something.
BAM #1: Big name guy on the chat sharing advice.
Bam #2: He buys 10 items. That equals ROI!
Bam #3: Cost of a Blab? XERO!
Besides the Cardone guest appearance, Francis had many customers in the chat, and I'm sure sold some additional product. I did not stick around for the whole show. Anyway, why is this awesome?
You QVC. I'll QVC. We Can All QVC!
Watching what was going on during this Blab reminded me of the mega television shopping giant, QVC.
QVC sells so much product, it will make your head spin, and they do it all while being in your living room, on your TV, on your iPad or iPhone, and talking to you all day and night about a product. Hell, I even find myself hooked on QVC some Sundays watching the In The Kitchen with David show. It's addicting, and they have raving fans doing the Happy Dance, Happy Dance! (Inside Joke)
So, how does this relate to Francs and Steals.com? During this 45 minute Blab, they were basically doing a poor mans QVC. They were on live TV (Blab) discussing the product, fielding questions, talking direct to customers, accepting feedback, and in the end, creating raving fans. Sound familiar?
That's a potential game changer, don't you think?
You can watch the replay of the Blab I saw here

Shark Tank Style Business Pitching For The Masses

I decided to dig back through the Blab replays section, and found out more about Grant Cardone. I skimmed through a couple of his Blab replays, scanned is Twitter feed, and thought what he is doing is pretty cool. During my skimming, I never did find a deal he took a bite of (shark reference), but I did see him say no to everyone else.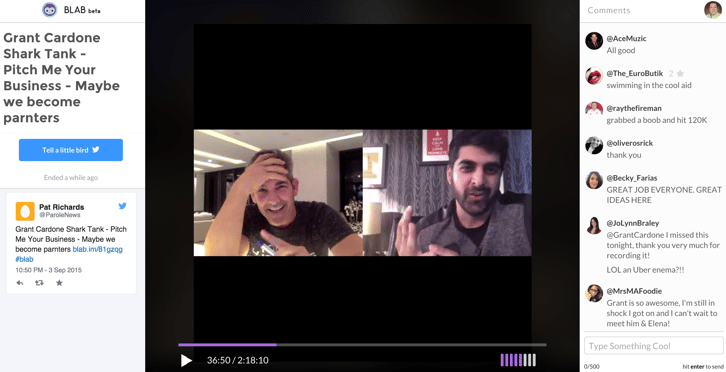 If you are a fan of the actual Shark Tank TV show, it makes you appreciate how that show is edited, and how the presenters are prepped to pitch their deals. So many of the people Cardone interviewed just had no idea how to pitch, and it was exhausting to watch. Maybe he needs to take a queue from the Jim Rome Show, and tell people to "Have a pitch, bring it hard, and don't suck".
But, what was cool is how he talked them through it. While he would say no to everyone I saw, he also gave some sort of feedback or advice, not only on the product, but on how they need to do a better job pitching.
You can watch the replay of the Shark Tank Blab I saw here.
Side note #1: Makes me wonder, will ABC come after Cardone for using Shark Tank in his show name?
Side note #2: For you PR folks, you may find this article he wrote on Entrepreneur interesting. Ha!
Blab For Your Business: Social and Content Guru Recommended. Doc Approved!
Look, who knows how Blab will do down the road? It has been interesting to see the social media and online marketing industry big dogs come out and use Blab with some success.
One person who cracked me up on Blab was internet marketing rock star, Chris Brogan. I happened to catch his very first Blab where he was a guest, and he was talking about how he doubted he would ever really use the platform. He said it was not his cup of tea to interact that way online, live streaming that is. (though he periscopes)
Since that interview, I have seen him on at least 2 other Blab's where he was actually running the show, interviewing folks, one of them being James Altucher for his new book. That was a great Blab.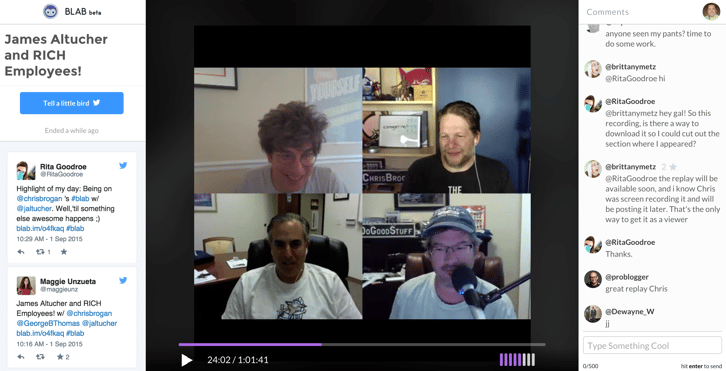 So even those who say never, like Chris, are coming back to the platform and getting something out of it.
Let's Wrap This Up, Been Blabbing Enough =)
Blab really is a cool site. I must admit that I have been somewhat hooked on it. It has been great to see and interact with a lot of great minds. If I'm at my computer, I find myself hopping on during the day to listen in, much as I would a live radio show or podcast, and sometimes find myself interacting. Can't do that easily on national radio shows.
Sure, the marketers will jump on this like moths to a flame and get whatever they can from it. But in the end, I think Blab can be one heck of a tool in a businesses tool belt to interact and engage with their prospects, customers and fans... raving fans!
If you haven't checked Blab out yet, you owe it to yourself to do so. Just hop on, the water is warm, and no one bites... hard. (except maybe the Shark guy)
The developers of Blab are on the site all day, taking feedback, and releasing updates all the time. I am looking forward to seeing the new and exciting features that come to the platform.
Now, It's Your Turn
I would love to hear how you think businesses could use Blab. I have mentioned a couple here, but what are other possibilities? Could a business:
Do live tech support?

Give guitar or piano lessons?

Teaching someone a language?

Present an online course?
Leave your ideas in the comments below. Heck, maybe we should Blab about it one of these days.
Until next time…
Doc
---