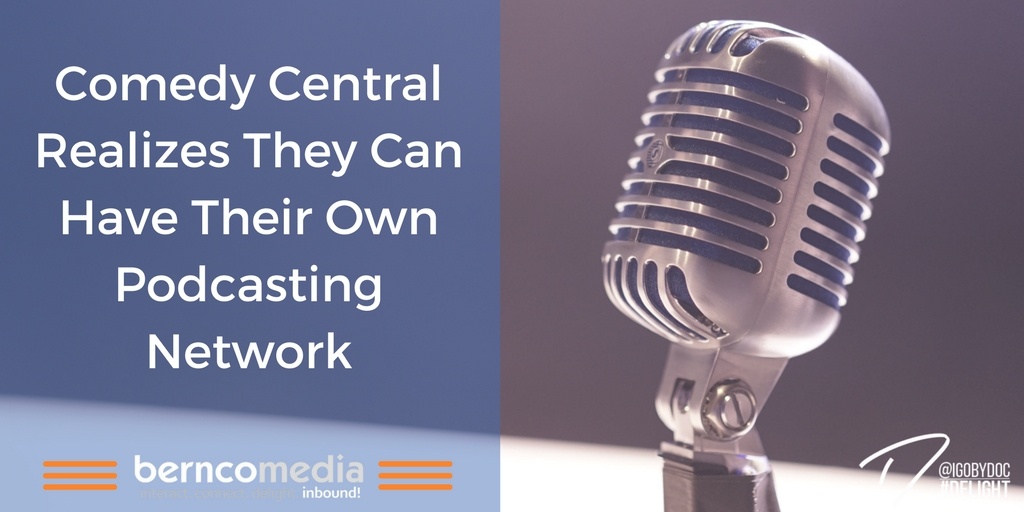 Even with the increasing number of financial, commercial, and celebrity success stories, podcasting has always been dominated by 'the little guy'.
People in their own homes with nothing but a microphone and a sound-effects program getting their messages out to the world. Podcasts gain massive followings, loyal fans, and financial backing, all the signs of major success while still maintaining that small-time personal feel. However, with the recent wave of talent discoveries and podcasts becoming TV series, big business has started to realize that they too have everything they need to record these increasingly popular audio episodes for their existing audience and to reach out to the growing podcast community.
Comedy Central's Can't Resist Building a Podcasting Network
We shouldn't be surprised that Comedy Central, one of the most aggressively 'hip' companies in the world of big production, was one of the first to discover that podcasting doesn't actually belong to the common people. Just like private people in their homes, big businesses also own microphones, recording software, and they often have a much better library of sound effects. Stacked on top of the massive potential audience interest in official comedy podcasts from the name-brand themselves, how could Comedy Central resist the urge to make low-budget humorous audio episodes?
Let's face it, for a Television production company, podcasting is the perfect formula of popular and cheap to produce. After all, they don't have to worry about sets, cameras, lighting, acting, cutting the film afterward, or paying any of the people involved in these things. All they need is a sound booth and goodness knows that they have plenty of those. That's the beauty of podcasting, it's easy. Anyone can do it, even big companies with tons of budget and equipment.
A Comedian's Dream Come True
Podcasting isn't just great for your production costs, it's also exactly the kind of environment comedians have been dreaming of. Unlike podcasting, comedy is hard. Creating the right combination of sarcasm, mugging, acting, props, and timing to make people laugh with every single routine is a lot more difficult than it looks and every aspect of media makes it even harder. When a comedian has to act and move in an entertaining manner, this adds to the challenge of their act which is why a lot of comedians enjoy doing voice-acting for animated projects rather than walking out on stage themselves.
Podcasting is like voice acting only without the cartoons. Instead, it's just you, your voice, and your listening audience. For a comedian with a good patter, this is perfect. They don't have to dance around, act well, or make silly faces. They can focus all their entertaining power into a lively vocal performance, enticing giggle after giggle from a listening audience they will never have to see or be heckled by should a joke fall flat. In many ways, podcasting is the perfect venue for both new material and old material recycled from long forgotten routines.
People Love Comedy Podcasts
While comedians are enjoying making podcasts, listeners are happily soaking them up. Among the many serious podcasts about real-world issues, marketing practices, crime stories, and industry news, there are hundreds of thriving comedic podcasts as well. People love the opportunity to laugh as they get ready in the morning, drive their daily commute, work out at the gym, or hang out with friends.
A constant pattern of simultaneously exciting and amusing content stimulates the brain and gets you in a good mood to have lively conversations of your own later on. Between the comedian's love for podcasts and the podcast listener's love of comedy, a comedy podcast network seems to be a match made in heaven so we shouldn't be surprised that Comedy Central has stepped up to get their vast collection of talented comedians and producers into the game.
This perfectly calculated move by Comedy Central could signal a major shift in the podcasting industry. While there will always be independents with microphones getting their voices out to the public, soon we will probably see all sorts of big production companies and brands realizing that they too can take advantage of the podcast evolution.
For more interesting tips on digital marketing strategy and where the future of digital marketing is going, contact us today!
---