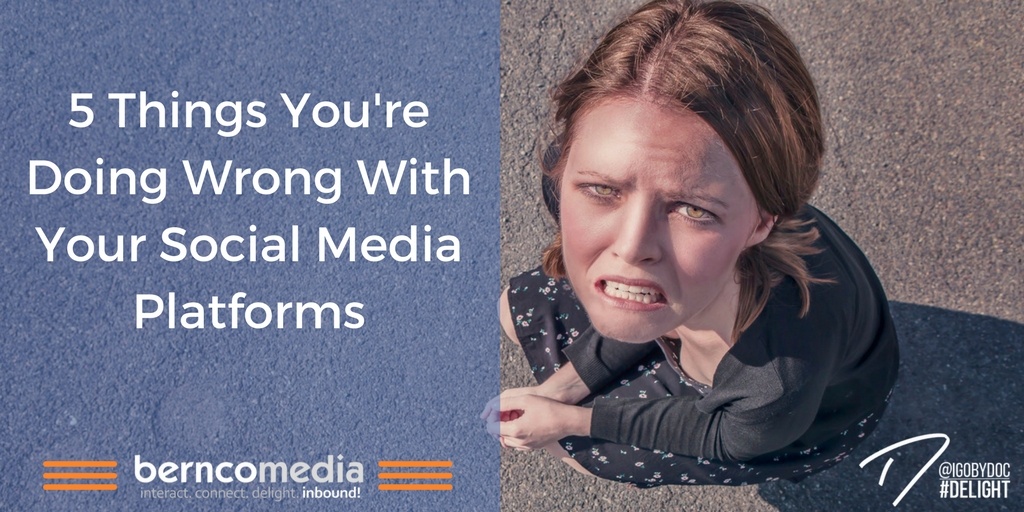 If you're a business in today's world, chances are good you have a social media profile. In fact, you probably have half a dozen of them, making sure that people can find you on Facebook, see you on Twitter, and perhaps send you business communications on LinkedIn. And while it's a good thing you're taking advantage of this free resource to make your business more visible, and to build your brand, if you're not getting the results you want it might be because you're doing something wrong. For example...
Mistake #1: Mass-Market Bland
There is nothing worse for your social media brand than being boring, and if you're sending out the same, scripted press release on every site you use, that is definitely boring. Before you make one more post, back up and examine it. Does it have worthwhile information? Is there a personality, or perspective being offered in this post? Is it fun, entertaining, or does it take a stand? Most importantly, is it about a person or a particular business? Because businesses are made up of people, and people are infinitely more interesting than your business to most folks on social media, as Ideal Ware points out.
Mistake #2: Don't Talk About Yourself All The Time
The purpose of social media is to make more people aware of you, he helpful, and help boost your visibility. However, as She Brand suggests, you should only talk about yourself and your products about 20 percent of the time... give or take. The rest of the time you should be sending out other signals, sharing stuff about the community you operate in, or just interacting with your followers. Think of it this way; if you're genuinely likable 80 percent of the time, then when you switch over to the hard sell for the other 20 percent it won't scare anyone off. And a lot of them will likely trust you enough to listen, and perhaps make a purchase.
Pro Tip: Go and read the Book Jab, Jab, Jab, Right Hook by Gary Vaynerchuk for some excellent examples of this in action.
Mistake #3: Not Promoting Your Social Media
If a tree falls in the forest, and no one's around to see it or hear it... you get where this is going. You could have the most fabulous social media pages on the Internet, but if you don't tell anyone about them, they won't do you any good. So take some of Oracle's advice, and make sure your social media is connected to all your traditional promotion sources, and that you take some time to mention it whenever it's appropriate. If you have radio commercials, mention your Facebook page. If you run a blog, include a tagline near the end where readers can follow you, and while you are at it, add your links to your email signatures. Whatever you're doing, make sure people know how to find your pages. Otherwise, you depend on luck, and algorithms, neither of which is something you should count on.
Mistake #4: Being Inconsistent
Humans are creatures of habit, and they love when something is dependable. The other side of the coin, though, is that few things will annoy your audience more than when you skip or miss deadlines. If you don't believe that, look at the comments artists get when their Friday webcomic is late by a single day without notice. Now ask yourself when was the last time you kept to a social media schedule. If you've never had one, and you've only been posting whenever you felt like it (or when you remembered to), it might be time to sit down and hammer out some deadlines. It can only help you.
Mistake #5: Don't Pay For Followers
Growing a following is tough, and if you've got the budget to burn, it might seem like a good idea to just go and buy a whole bunch of followers. After all, if you swell your ranks temporarily that means you may show up in more searches, you'll get more traffic, and you'll be able to replace the followers you paid for with new, organic followers. Unfortunately, it rarely works out that way. Even worse, paying for followers can have all kinds of negative repercussions for your social media accounts. So while getting an organic following is hard to do, it's definitely worth the work.
For more tips on how you can get the most out of your social media efforts, including paid social media advertising, simply contact us today!
---