You Should Totally Do Social Media, Because It Is FREE!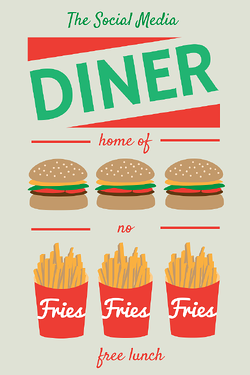 I hope you sensed my sarcasm in that headline!
When it comes to marketing and engaging in social media, the time is now to start having your budget set aside, and finally give social media the attention it deserves.
As social networks, such as Facebook, continually update their algorithms, it will be increasingly more difficult for you to get your business in front of a new audience, not to mention the audience you have taken the last few years to build.
Let's look at two of the biggest costs of doing social media marketing in 2014 and beyond.
The Cost of Human Beings
Social media, now more than ever, is a human business!
Gone are the days where you could get away with auto-posting a social media update from one platform to another and call that "doing social media".
Social media is not the job of just the marketing department anymore. Depending on the size of your business, you may need:
Customer support: Manning Twitter for customer service opportunities
Sales people: Prospecting on social media sites for the next big sale
Marketing team: Listening to social media and tracking advertising campaigns
PR department: Keeping an eye on brand mentions from a reputation management standpoint
Creatives: Designers and copywriters that can create great micro content
The list goes on...
I understand, not all companies have the resources for all of the above mentioned and more as it relates to available time, budget or manpower... but, just like you found the money to advertise in the yellow pages (yet again), erect a billboard, buy some banner ads, purchase new office furniture, lease a larger office and a new truck, and order those neat embroidered shirts you always wanted, I implore you to start earmarking money and manpower for social media activities that can help grow your business.
If you are a one man shop, the torch for all of the above is handed to you. Sorry, but you knew that. You do everything else already. What's a little social media added to the list of things to do? (sarcasm again... I empathize!)
If you are a small business with 5-50 employees, I would venture to say that you have all the people in-house you need to get the job done. Trust in your staff to be the voice of your business. With a little strategy and training, they can be awesome.
In either case, it may be a good idea for you to find a trusted service provider or consultant to help get you on the right track, determine where you should get started, possibly course correct, and create a strategy to help you achieve your business goals.
Social Media Advertising: The New Cost On The Block
Do you remember when you used to post something on Facebook and your views and engagement numbers were high? Or, are you just getting started and you are frustrated by the low engagement, as well as little to no results?
Well folks, Facebook, Twitter, LinkedIn and more have the solution all wrapped up for you (with a bow), and it's called... pay them.
These are all publicly traded companies, and now they have to make money. It's cool, we as marketers get it. We may not like it, but we get it. Hell, Google and Bing have been taking our money for years... social media sites may as well too, right? (sigh)
From sponsored stories on Facebook, to promoted accounts on Twitter, there is something for everyone. But, that does not mean it is for everyone.
While paying for what used to be "free" kind of stings, the targeted ads you can deploy on social media sites like Facebook are really second to none, and in some cases can be very cost effective.
Budgets will vary depending on the site, and how you want to promote. But it is worth giving it a shot if you have something worth sharing, and is helpful to your potential audience.
If you choose to pay to play on social, know what your goal of the promotion is. Do you want sales, leads, views, shares, likes, followers, or something else? Once you know, create the proper content, and deploy the ads correctly to help reach your business goal.
While social media is no free lunch anymore, if you execute your strategies properly, you may get a free up-size in your value meal! (just watch those calories!)
That's it for this post!
Until next time,
Doc
---